In our previous 'Meet the Players' articles we have looked at companies involved in the AIM market. This month we are looking at a market participant from the 'other side of the fence' – a Private Investor.  Our 'player' today is a very successful investor who has made considerable sums of money from investing in small listed companies.
Our subject has asked that we do not give his full name, so I will just refer to him as 'Buckinghamshire Bill'.  I met Bill over a pleasant lunch in a country pub in a Buckinghamshire village.  It soon became apparent in our conversation that Bill's approach to investing is riskier than many would find comfortable. However, his success to date is remarkable and perhaps we can learn something from his approach.
Free Loan
Up until 5 years ago Bill was a site manager in the construction industry. At that time he had become aware of some exciting opportunities in a number of very small AIM companies. He recounted that he was able to borrow £125,000 at that time at 0% interest for one year using a number of credit cards. This money enabled Bill to make some substantial investments and he was able to pay off the loan in full from profits within the year. Bill says that he is extremely grateful to the banks for this free loan to get him started – sadly these banks and their shareholders are now paying the price for such excesses.
Armed with cash in the bank, Bill's first major investment was First Artist Network (FAN). At the time First Artist were primarily involved in a football agency business. Bill purchased approximately 3% of First Artist's shares at around the 3p mark (NB FAN's shares have subsequently undergone a 1 for 10 consolidation). He recalled that he had a conversation with First Artist's Chief Executive, Jon Smith, in which he promised to pay 10% of his profits from his First Artist shares to Jon's Leukaemia Research charity, The Lee Smith Foundation  -  http://www.theleesmithfoundation.org/ . When Bill sold his First Artist shares at a considerable profit a couple of years later the charity duly received their 10%.
Bill's biggest coup came with property group, Northacre. He had first noticed Northacre after he had seen their name at the top of the 'Percentage Losers' list on ADVFN one day in 2005. Bill went on to build a sizeable position in the company buying shares mainly around the 4p level. (This journalist also had the good fortune to be involved here, but sadly not from as low as 4p). Bill still believes that Northacre has good prospects today and has retained a small interest in the Group. However, he sold the majority of his holding at an average price of 65p within 2 years of his purchase – we make that a gain of 1525%!!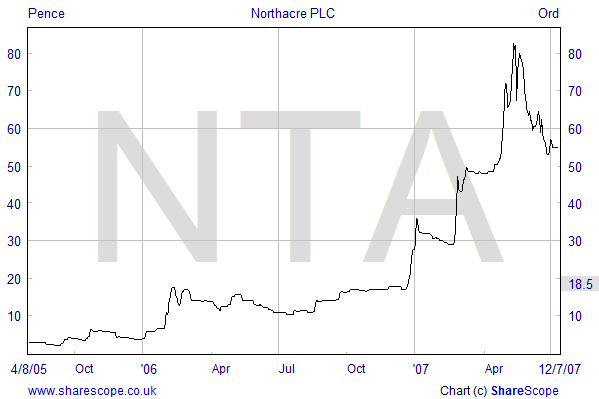 This huge gain on Northacre is pretty impressive but our player's best percentage gainer was Comland Commercial whose shares were created when the company demerged from Banner Homes.  In effect the shares cost Bill a few pence each. He held on to the Comland shares for a few years until the company was taken over in 2007 at £9.50 per share. A healthy return!  
Bill does not follow conventional wisdom of investing in a spread of companies or sectors. Rather he prefers to invest significant sums in just two or three companies. Personally I like to spread my AIM investments over a number of companies in different sectors in order to spread the not inconsiderable risk of investing in small companies.  But, to date Bill's methodology is showing better returns than mine.
I asked Bill if he had had any major failures. Yes, he had encountered a major problem with AIM listed Wagon last year, where he had to sell out at a loss.  However, he has managed to make much more from his winners to compensate.  To date Bill had recorded £746,000 profit from gainers and just £12,000 of losses from the fallers.
Secrets of Success
I asked Bill the secret of his remarkable success rate. He says that he does not know himself whether it is good luck or judgement.  What he looks for are companies on 'a desperately low market capitalisation'. He likes the companies to be making a profit or at least likely to be making one soon. He particularly looks for companies with very low forward P/E ratios. His focus is on companies which he believes can achieve 'massive massive growth'.
So what about sectors? Bill has no preferences here.  He is more interested in value and prospects. So, for example, he does like companies whose shares have fallen by 95% and he does not mind companies with debt – he explains that this can often give substantial gearing.  
Bill will attend company AGM's and likes to meet with directors at these events. However, he admits that it is not easy to make good judgements after talking to directors since most company directors are usually upbeat when speaking to investors.
I asked Bill how he judged when to sell a share. He says that this is nothing particularly scientific. He simply judges that when he has made substantial gains that it is time to exit.  So, for example, if he had invested £10,000 in a company he would start thinking about selling once this investment had grown to £100,000. He would even sell even if he thought prospects for the shares were still good.
The final point under Bill's secrets of success is that he would never 'be sold a share' or subscribe to a tip sheet. Rather he prefers to do his own research and make up his own mind.
The Future
So, what about the future: Bill says that he 'is very confident about the future for the AIM market' particularly following last year's significant falls. He says that AIM gives people an excellent opportunity to make significant sums from a relatively small stake.
Currently Bill has significant stakes in two AIM listed companies. One is Formula Telecoms Solutions (Epic: FTS) who describe themselves as 'a leading provider of Billing, CRM and Business Control solutions for communications and content service providers'. Bill considers these shares to be extremely cheap. Particularly, he highlights that they have 'bags of cash', a new CEO, earnings gaining because of the weak pound and directors recently buying shares. We will reveal the name of Bill's second major AIM investment in the March edition of Aimzine when we will publish an Aimzine feature on this particular company.
Bill admits that if he 'has got it wrong' on these 2 companies that he will soon be found 'Penniless and aimlessly walking the back streets of Buckinghamshire'.
Note of Caution
Aimzine wishes Bill good fortune. We should say that we do not recommend some of Bill's high risk methodology (but we are envious of his results). Inexperienced investors in particular are reminded that investments in small companies can be very high risk.
Next month we will return to a corporate 'player' in this 'Meet the Players' series. However, we may feature another noteworthy Investor at some point in the future. We would be pleased to hear from you if you know a likely candidate.